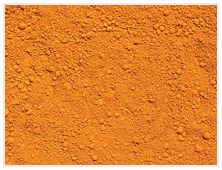 Sheet
Product name: Iron oxide orange
iron oxide orange
1. Product Overview: Iron produced by blending orange iron oxide red and yellow blending a mixture of iron oxide, has a good paint Yen features such as color strength, hiding power are high. Has good weather resistance, bright color, and so on.
2. Specifications Model: 960.
3. Usage: widely used in colored cement, bricks, paint, paints, building materials, rubber, plastics, paper and other fields.
4. Storage conditions: store in a dry place without rendering damp, avoid high temperature and with the acid-base complex isolation. According to the above storage conditions, unpackaged products effective storage period of three years.
5. Packing: 25 kg / bag, outer plastic inside compiled.
Test item

The indicator

Test results

Fe2O3 content,%

85

90

Moisture,%

1.0

0.7

Water-soluble matter,%

0.5

0.4

Sieve residue (325 mesh)%

1.0

0.4

Oil Absorption (ml/100g)

25 ~ 35

30

pH,

3.5 ~ 7.0

6.0

Color strength,%

100 + 5

99
Back :
Iron Oxide Brown
Next :
NO