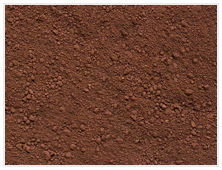 Sheet
Product Name: Ferric oxide brown Iron Oxide Brown
1. Product Overview: formula Fe2O3 • nH2O, iron brown blending products are iron oxide red, iron oxide yellow properties, iron brown color area also has large, strong adaptability and other major features, and iron oxide red, iron oxide yellow compared to scope of application is more extensive, more applicable to the user.
2. Specifications Model: 610/686/860/885.
3. Usage: widely used in colored cement, bricks, paint, paints, building materials, rubber, plastics and other fields.
4. Storage conditions: store in a dry place without rendering damp, avoid high temperature and with the acid-base complex isolation. According to the above storage conditions, unpackaged products effective storage period of three years.
5. Packing: 25 kg / bag, outer plastic inside compiled.
Test item

The indicator

Test results

Fe2O3 content, %

90

92

Water, %

1.0

0.7

Water-soluble matter, %

0.5

0.4

Sieve residue (325 mesh)%

0.5

0.3

Oil Absorption (ml/100g)

25 ~ 35

30

pH,

5.0 ~ 7.0

7.0

Color strength,%

100 + 5

99

Conclusion: This product is eligible.
Back :
Iron Oxide Green
Next :
Iron Oxide Orange